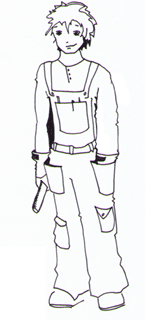 I just ran a "
Typealyzer
" analysis of my blog, and it labels me as a "Mechanic" who is a "practical thinker." Here's my profile:
The independent and problem-solving type. They are especially attuned to the demands of the moment are masters of responding to challenges that arise spontaneously. They generally prefer to think things out for themselves and often avoid inter-personal conflicts.

The Mechanics enjoy working together with other independent and highly skilled people and often like seek fun and action both in their work and personal life. They enjoy adventure and risk such as in driving race cars or working as policemen and firefighters.
Hey! I guess church life is pretty fun, adventurous, and risky stuff! Being a pastor is a high and challenging calling, but I wouldn't trade it for anything in the world.
It's also interesting to see how some of my favorite bloggers rate in the Typealyzer test:
Al Mohler
- a thinker (no surprise there!)
Justin Taylor
- a thinker
Tim Challies
- a thinker
Logos blog
- a guardian
Michael Hyatt
- a mechanic
Walter Price
- an idealist
David Sqyres
- an idealist
Bret Capranica
- a duty fulfiller
Jessica Pham
- a performer